---
I think that you could safely say that both Matt and I were destined to end up in real estate, although we both took very different paths to get here. My interest in the real estate field started very young. When I was in middle school, I often used to walk through my neighborhood, Willow Glen, and always admired the perfectly kept ranch-style homes and large lush lots in the area.
I was also so impressed by the majestic trees lined roads and the exquisitely manicured yards. The homes were not grand by any means, but they conveyed safety. They had substance and character. One of them even had a drinking fountain in the front yard! I remember thinking how much that I loved that area and the homes located there, and I still do! Those walks in that neighborhood instilled me a passion for homes and property, which is something that I still carry to this day!
Even though that I knew early on that I had a keen interest in real estate, I didn't not pursue that path initially. I went to San Jose State and studied international business. After college, I worked in banking for five years. Then I spent fifteen years as the finance director for business newspapers. During the dot com bust, the publication that I worked for went out of business, so I needed a change in direction. My friends and family all knew that I have always had a sales mentality and business development skills, in addition to a strong adoration for homes, so they advised me to pursue real estate. I heeded their advice and got my license in 2003 and it was definitely one of the best decisions that I have ever made! I sold a house on my first day on the job and it has been onward and upward since!
Matt's interest in real estate also started very early, but in a different manner. Matt's father sold Orthodontics, so you could say that sales is in his blood! Not only was it basically a family business, he had a natural talent for it. Everyone knew that he would go into a sales related field when he was five years old selling rocks in coffee cans to his neighbors out of his Radio Flyer Wagon. Matt carried his passion for sales from his childhood into a career of more than twenty years selling cosmetics and fragrances up and down the west coast.
In his early days in the sales field, Matt loved the business. He truly enjoys working with people, and sales is a business that is all about people, so he excelled in the industry and quickly moved up the ranks. He was very successful and widely known throughout the region and industry as a dependable and charismatic representative of his company and product. His job was to ensure that his clients' needs were met and to provide them will unmatched service and support. His clients were his friends and his friends were his family.
Later in his career he noticed that things were becoming less personal. The cosmetic and fragrance business evolved from one of friendships and connections, into a transaction focused industry. It became more about numbers and quotas than relationships, so he decided it was time for a career change, as well. After taking a personal and professional inventory of his skills, talents, and interests, he chose real estate for the career of his future, so he obtained his license, and the rest is history!
Even though Matt and I adore our careers in real estate, our first priority are our families. I met my husband, Earle, at a party two weeks after high school. We went out the very next day, and we have been together since! We were married in 1983 and we have two sons, Sean and Brad. Earle is now a Commercial Construction Superintendent and has worked on many large projects around Northern California. We have a house in the Southern Sierras that we call "Bakers Acres" and we try to spend as much time there as a family as we can. We also love to hike, travel, go wine tasting, and spend time as possible with our two adopted, mix- breed dogs, Bella & Penny.
Matt is also very close to his family. He married his wife, Kevina, on a beach in Maui in 2010. They love to spend time with their three children Drew, 19, Ashlyn, 17, and Mitchell, 17. Matt and Kevina, who is now a Senior Director for a large Technology Company in the Area, have made a bucket list of travel destinations and keep busy pursuing their next dream vacation. In his spare time, Matt also loves to ride on his newest toy, a 2017, Harley Davidson Softail Slim. He loves the freedom and exhilaration that he feels when he is on the road on his motorcycle!
Although Matt and I are very fortunate with our careers and family, we have also had our challenges. I was diagnosed with Breast Cancer in September of 2008, during the same time as the real estate markets crashed during the recession. It was a scary time, that's for sure, but I was persistent. I continued working through my treatment. I was diligent. I tried and succeeded in making an impact during such a difficult time. I endured, and I am a much better person and REALTOR® because of it.
Matt has also seen is share of challenges. He lost his mother unexpectedly a little over a decade ago and his grandmother five years ago, both women he was very close to. For someone like Matt, who is so focused on people, especially family, personal losses are the hardest to go through. Recovery from such close losses is slow, and the pain really never goes away, but Matt also persevered through the hard times and now is a much stronger person and real estate agent because of those hard times.
When Matt and I made it through the challenges, with our focus on family and business, we decided to partner together in 2016. I was doing so much business that I needed help to carry the workload. We met through a mutual friend, and we had a close personal friendship for years. We always knew we would work great together because we both have the same philosophies, value set, vision for what we can provide. I knew that when I brought him on, he would ensure the continued delivery of quality client care.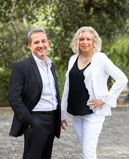 Matt and I are both vehement about service. We don't look at the people that we represent as just clients, we see them as potential friends for life and parts of our extended family. Together we developed our motto of "MORE THAN JUST," because real estate is more than just brick and wood buildings. It's more than just internet searches. It's more than just transactions. It is about relationships. It is about service. To us, it is about a burning desire to do the best possible job for people that we truly care about. We are driven by passion, not just the bottom line.
Matt and I would love nothing more than to lend our knowledge and experience toward helping you with your real estate endeavors, but we don't expect your business simply because of our relationship—we only ask that you take the time to interview us and see if we might be the best agents for you. Thank you for taking the time to learn about us. When you or someone you know is in need of a real estate agent, we hope you give us the opportunity to demonstrate our services and interview for the job.
Sincerely,
Linda Baker

REALTOR®